Much controversy surrounds why Thoroughbreds run. Of late, I've seen considerable discussion of whip use and condemnation of horse racing in general. Fort Larned's riderless "win" in the Gulfstream Handicap ought to provide another aspect for discussion, but, considering the mentality of most people who comment on the Internet, I suspect it won't.
In fact, I should stop reading the comments under horse-related articles on the Web. The general level of romanticism and irrationality is bad enough, but the overall ignorance causes me to froth at the mouth.
What's infuriated me lately are a number of remarks complaining about whip use, saying that jockeys constantly beat their horses during a race and that race horses only run because they are beaten.
I complain about whip use too, but I do so because a growing body of research indicates whipping is basically pointless, futile, and hence cruel. Some countries are ahead of us in limiting whipping. For example, many years back, Sweden ruled that a jockey must hold onto the mane when using the whip and is limited to three whacks a race. Some US tracks already allow only padded bats with large, doubled, triangular slappers--literally slapsticks--which create more noise than pain.
Even without regulation, the races I've seen of late don't seem to have as much whipping as they did even a few years ago and certainly much less than occurred during some 18th and 19th Century races when horse beating was generally accepted as necessary. In comparison, today's best jockeys restrain their whip use. Of course, like the rest of us, not all jockeys have great talent or good sense, so stricter rules should pass.
However, I suspect that self-selection reduces whip use. For many trainers and owners it's become clearer that jockeys who use the whip too much lose many more races than they win and, worse yet, extensive whipping merely desensitizes the horses to the pain, making further whip use pointless.
As to whether race horses like to run, I know my off the track Thoroughbred sure did. (My avatar shows him wafting around my fields.) Upon being turned out for breakfast, he swept around our twenty acres, covering at least a mile before settling down to graze. Watching him was a thrill for me.
Watching the riderless Fort Larned sweep by his rivals in the 2013 Gulfstream Park Handicap (Grade II) was a comparable thrill. The favorite, he stumbled badly at the start, lost his jockey, then blew by the rest of the field and disappeared off screen. At
1:45 in the video
, there's a glimpse of him after the finish line. He's clearly pulling himself up after "winning" by a distance comparable to that of Secretariat in the Belmont.
Bloodhorse
put up this still photo of Fort Larned, close to the rail, ears swept back in concentration, doing his job despite the lack of human guidance. One thing's for sure. No jockey used a whip on him that day, and yet Fort Larned ran a fine race.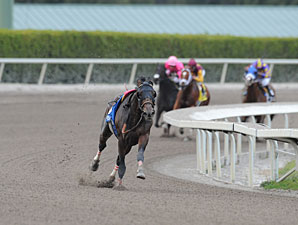 No one really knows why TBs run. Maybe this video shows a horse that loves to run. Maybe it shows a highly trained race horse that knows his usual and/or best distance. In either event--or both--it certainly showed a horse running without being flogged around the track.
Post script: The
Bloodhorse website reports
that the 5 year old caught a quarter coming out of the gate, causing the trip, but his trainer, while still observing him carefully, says the horse looks to be just fine otherwise.
UPDATE: Fort Larned's definitely OK. On June 15, 2013,
The Blood Horse
posted this:
"Fort Larned Rolls to Easy Stephen Foster Win."